I was born in ancient Slovakia. many years ago. I was the biological great-niece of Sasha, and when she yearned for companionship, she chose me to join her as the first of her adoptive daughters. Within my first century as a vampire, Sasha added two more vampires to our coven, my sisters Katrina and Irina.

Tragedy struck us when  Sasha's crime of creating an immortal child was revealed. I did not understand my mother's need to create the child and because of my close relationship with Sasha, her death effected me worth than my sisters. Her death left the us traumatized, and purists for vampire laws.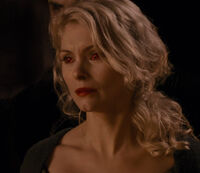 The pain of loss and emptiness became unbearable for us and we tried to fill it with a long line of flirtations, which were enough to frequently distract us from our loss loss. However, every man we courted ended up dead due to our inability to resist their blood. This earned us the title "succubus" - a demon who seduced men and lured them to their deaths.
Over time, we began to feel remorse over these small losses. I was the first to become sensitive to the unbearable pain and gave up human men for a time, but the loneliness returned. I tried to find a way to go back to my romantic pursuits without killing my human companions.One day while out hunting I discovered human blood could be substituted with animal blood. My sisters and I became "vegetarians".
Soon after we met with two nomads, Eleazar and Carmen, who stayed to try our lifestyle and thankfully never left. 
My family and I stood as witness for the Cullens when the Volturi came for Renesmee and unfortunately lost our sister Irina that day. Garett was there to help Katrina through the grief and has now joined our family.
We still reside in Denali, our family strong but never forgetting those we have lost